---
---
One Love Gospel Cruise 2009 (conclusion)
prev | 1 | 2 | 3

~~~~~~~~~~~~
Gospel Cruise 2006 | Gospel Cruise 2011 | One Love Getaway 2013
Capital Jazz SuperCruise | Tom Joyner Fantastic Voyage Cruise
Port of Call - Costa Maya, Mexico
Costa Maya was our second and final port of call before heading back to Tampa. Costa Maya is a relatively new town that was built specifically for tourism in 2001. Its popularity as a cruise stop was climbing fast until Hurricane Dean destroyed it in 2007. Almost a year passed before the town was able to get back on its feet. Today Costa Maya has a colorful plaza with souvenir shops, restaurants, swimming pools, and performers. All this is nestled beside a beach with turquoise waters. There were rocks that made wading into the ocean impractical but a large saltwater pool made up for that. I was really pleasantly surprised with Costa Maya.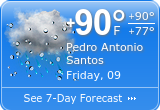 dancers in the plaza at Costa Maya
&nbsp
Traci and I had pre-registered online for the Chacchoben Mayan Ruin tour. We boarded the tour bus and headed to Chacchoben. As soon as the bus left the plaza area of Costa Maya, we found ourselves riding through desolate grasslands. Our tour guide was providing historical and cultural commentary or "the blah blah blah" as he called it. We were in the Mexican state of Quintana Roo. The chief occupations here are farming and fishing although I would have never figured that out from riding through this featureless section of the state. The 2-laned road we were on during the hour-long ride contained only two bends during the entire distance.
We were given time to use the restrooms at Chacchoben before our guide began the tour of the Mayan ruins. My advice is use the restroom on the bus if you don't have to do a number 2. Otherwise, have some change to tip the man in the men's room turning on the faucet, dispensing soap, and handing you a paper towel. Traci said a similar hustle was going on in the ladies room.
Anyway, I was impressed with our tour of the Mayan ruins of Chacchoben. The excavated buildings were quite impressive for structures that have existed for more than 1,500 years. One of the buildings still contained some of the original red paint. Our guide gave very good commentary on the culture, history, and religion (which included human sacrifice) of the Maya. I was equally fascinated with the lesson we received on the uses of the jungle plants such as the chicle tree that was used for thousands of year to make chewing gum.
We were given time to explore the temples on our own. We were not allowed to climb to the top of any of them like we were the day before in Belize.
Like Altun Ha, Chacchoben is surrounded by jungle. We ended up having an unexpected wildlife encounter. As I was walking around one of the temples, one of the women in our tour group said, "Hey, I see a snake over there."
Sure enough, I peered over the ridge and saw a very large snake coiled up on a fallen tree. I'm no herpetologist, but I think the snake was a boa constrictor. It was not close enough to cause us any concern. I was just happy to see one in the wild.
Mayan ruin at Chacchoben
&nbsp
Traci wore the wrong shoes for this tour
&nbsp
original red paint still visible
&nbsp
aloe plant used for healing wounds
&nbsp
This large snake was laying on a fallen tree
&nbsp
local artwork for sale
&nbsp
After our tour, we were given time to visit the shopping stalls near the parking lot. I sat on a bench while Traci and others did the shopping thing. Traci ended up buying a $20 dress for the ship's White Night theme.
Back at the bus, our bus driver was serving beer, soda, and water. A lunch bag containing a ham & cheese sandwich, fruit, cookies, chips, and candy was placed on each of our seats. During the ride back to Costa Maya, our guide finished up his commentary on the fall of the Mayan civilization at Chacchoben. It is believed that the slash and burn farming methods of the Maya at Chacchoben contributed to drought and ultimately the abandonment of the area. Our guide then told us to enjoy our naps. When I woke up, we were pulling into the plaza at Costa Maya. We tipped the guide and driver and thanked them for a wonderful tour.
Traci took some time to do more shopping in the plaza. The vendors were a little more aggressive than the ones in Belize but they were no where near as aggressive as vendors we've encountered in other parts of the world such as Jamaica, Dominican Republic, and Brazil. The prices in Costa Maya seem to vary greatly, so it is best to haggle a little. Traci saw another dress that interested her. She was initially told it cost $85 but she was able to talk the man down to $25. After all that, Traci decided she did not really need another dress so we headed back to the ship. We had really enjoyed our day at Costa Maya and Chacchoben.
beautiful Costa Maya
&nbsp
relaxing while Traci shops
&nbsp
Rockin' Out
Our ship left Costa Maya at 5 PM. We had a full day of cruising across the Gulf of Mexico to Tampa. It turned out to be a full day of windy weather that had the ship rocking and rolling. It was a challenge to walk a straight line. The performers were bracing themselves on stage as they sang. The crew of the ship had lined the stairs with vomit bags in case people got sick.
One Love Gospel Cruise 2009 itinerary. Click map for larger view.
Traci had been wearing a motion sickness patch the entire cruise so that she would not have to deal with motion sickness. I, on the other hand, decided not to wear a patch this time because I don't like the side affects: blurred vision and dry mouth. Furthermore, I have problems when I remove the patch after a cruise. Even though I'm on solid ground, I seem to develop symptoms of motion sickness such as nausea and dizziness. These symptoms typically last several days after I'm no longer on the ship. Traci does not have this problem. I brought Dramamine with me on this cruise just in case I began to feel sick. I don't like to take Dramamine because it makes me extremely sleepy. With all these problems, it's a wonder I still go on cruises.
I ended up taking a quarter of a Dramamine tablet on this cruise because my stomach felt unsettled and I had lost my appetite. Losing my appetite was the last thing I wanted on a cruise where you can eat for 24-hours. After taking the tablet and napping for an hour, I was back to normal. The seas began to calm later that evening. We had a smooth ride back to Tampa.
Back to Reality
There was a closing ceremony the final evening of the cruise that featured a performance by Shirley Caesar. Cathy Hughes (founder and chairperson of Radio One) then brought the army of Radio One staff and sponsors on stage for well-deserved recognition of the great job they did in making this cruise a success. All the artists that performed during the week were then invited on stage for recognition and for a photo opportunity.
As we left the closing ceremony, reality began to set in that the cruise was basically over. The only thing left to do was to have our luggage sitting outside our cabin by 11:00 PM for the porters. The next morning, we had our final breakfast in the dining room and then eventually left the ship. We spent the night in Tampa at the home of our friends Nicole and Nadir (Thanks for your hospitality and a great time Nicole, Nadir, and Nyla!) before flying back to Philly the next afternoon.
Final Thoughts
The cruise was a nice break from winter. I especially enjoyed the people, the ports of call, the comedy show, and the organization of the events. In general, the concerts were hit-or-miss for me probably because of my hang-up about seeing artists perform to pre-recorded tracks. Fortunately, there were some artists such as Mary Mary, Smokie Norful, Marvin Sapp, and Donnie McClurkin that performed with a live band. Their shows were awesome! I hope to attend more performances like those if we do this cruise again.
During the closing ceremony, Cathy Hughes shared her plan for the One Love Gospel Cruise 2010. She said the cruise will leave from Baltimore, Maryland and travel to Bermuda some time in May 2010. UPDATE: The One Love Gospel Cruise 2010 itinerary has been announced and is different than the Bermuda itinerary proposed last year. See the new dates and itinerary at www.onelovecruise.com. If you are interested in going, be sure to reserve your cabin early. In addition to having a greater choice of cabins, there is normally a $100 discount for booking early. Gospel Cruise 2011...
Magnets Purchased on this Trip: (click to enlarge)
Entire fridge magnet collection...
prev | 1 | 2 | 3

~~~~~~~~~~~~
Gospel Cruise 2006 | Gospel Cruise 2011 | One Love Getaway 2013
Capital Jazz SuperCruise | Tom Joyner Fantastic Voyage Cruise
---
[Back to the Main Page]