Savannah, GeorgiaOctober 8, 2021 - October 13, 2021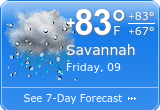 Our friends invited us to be guests at their destination wedding in Savannah, Georgia. Since we had never been to Savannah, we decided to make a mini-vacation out of our visit.
Things I Really Enjoyed
The Food: Savannah is known for seafood, barbeque, and down-home cooking. We had great meals throughout our trip. Our favorite restaurants were Vic's on the River, The Olde Pink House (reservation weeks in advance recommended), and Sandfly Barbeque.
River Street: This historic street by the river is now a fun tourist area containing restaurants, hotels, bars, candy shops, ice cream shops, street musicians, and much more.
Sabree's Art Studio: This was an unexpected treat when our guide for the Footprints of Savannah Walking Tour invited Traci and me to meet the artist who created the postcards we received at the end of the tour. Sabree's studio is filled with her brightly-colored paintings and other creations that are Gullah-inspired.
Day Trip to Hilton Head Island: Hilton Head Island is about an hour drive from Savannah. We enjoyed our day there which included a tour of the Gullah communities, a walk through the trails of the Coastal Discovery Museum, a fresh seafood lunch at Hudson's On the Docks Seafood Restaurant, and finally some beach time.
Day Trip to Tybee Island: We made the 30-minute drive from Savannah to Tybee Island where we enjoyed a walk on the beach and a scrumptious lunch at The Original Crab Shack.
Things I Would Do Differently
Make a Reservation at the Olde Pink House: I did not know that you need to make your dinner reservation at this renowned restaurant weeks in advance. Showing up with no reservation, we only managed to get seats at the bar in the basement after a nearly 2-hour wait.
Trip Report
Savannah
Our 2-hour non-stop United Airlines flight from Washington Dulles Airport to Savannah/Hilton Head Airport got us to Savannah at 10:30 AM on a very rainy Friday morning. We picked up our rental car, a silver Toyota Camry, of which we would see many during our time in Savannah.
The reason for our trip was to attend the wedding of our friends. The wedding would take place on Monday. Since Traci and I had never been to Savannah, we decided to tack on a few days before and after the wedding for sightseeing. As usual, I was given the task of producing a sightseeing itinerary for Traci and me. I thoroughly enjoyed the task but unlike the Colorado/Wyoming trip I planned a few months prior, this Savannah trip deviated much more from the plan. This was not a bad thing.
Our first stop was Savannah's River Street. Its cobblestone street runs parallel to the Savannah River where sternwheel tourist riverboats travel and dock. Occasionally, a humungous freighter will travel down the river. I hear there is an app or website that will tell you when you can see one of these massive vessels.
Traci commented that Savannah reminds her of New Orleans. I would hear this same comment from a few of our friends; however, I did not agree. To me, Savannah has its own vibe.
The heavy rain and massive puddles made for a miserable sightseeing experience but we were not there to complain about the weather. We grabbed our umbrellas and took a stroll.
exploring River Street in the rain
River Street is a historic street where cotton was exported from the 1700s up to the 1950s. These days, the former cotton warehouses house restaurants, hotels, bars, candy shops, ice cream shops, and much more to keep tourists entertained. It seemed that every shop we entered, the friendly shopkeepers offered us free tastings - candy, cookies, ice cream, etc... This would not be the last time we would experience the southern hospitality for which this region of the U.S. is known.
Our wandering took us up to the adjacent street called Bay Street. To get there, we had to climb stairs and cross concrete walkways containing iron railings. These walkways are called Factors Walks because they were used by factors - people who used to set the price of cotton exports. It was on Bay Street that we began to see the iconic large oak trees covered in Spanish moss. There were also statues, historic plaques, and historic buildings. We read a few of the plaques along the way until it was time to find somewhere to eat lunch. I had done some online research of Savannah restaurants and created a list of the most highly rated ones. One of these was Vic's on the River. Entering Vic's from River Street required us to take the elevator to the fourth floor. I am not a foodie but there is no way I can do a trip report on this region of the U.S. without talking about the food. It was one of the highlights of our trip. Savannah is known for seafood, barbeque, and down-home cooking. We had a mix of seafood and down-home at Vic's. All I can say is "Wow!". The food was amazing! It was our favorite meal of our trip. The best part was that even though we had two entrées, a starter, extra side, and dessert, it was still the least expensive meal of the trip - even cheaper than restaurants at which we shared an entrée. What an introduction to the region's food. Vic's had set the standard high.
Factors Walk
The rain had given way to sunshine by the time we finished our amazing lunch at Vic's. We strolled the paved walkway along the river before eventually making our way back to the car. Between exploring and dining, we had managed to spend four hours at the Savannah waterfront area.
It was about a 15-minute drive from downtown Savannah to our hotel which was located in the Midtown section of the city. The name of the hotel was the Fairfield Inn & Suites by Marriott Savannah Midtown. The bride and groom had blocked rooms there for the wedding guests. We happened to run into the bride and groom as we arrived at the hotel. I almost did not recognize them at first because we were still in the Coronavirus pandemic and everyone was wearing a mask. It was good to see them. We had not seen them in more than two years. However, it would be the last time we would see them until their wedding which would take place on Monday afternoon. Like us, they live in Virginia. It is hard enough to plan a wedding where you live. I can only imagine the challenges of planning a destination wedding. Understandably, they still had a checklist of tasks to complete before their big day when we ran into them that Friday.
We had a room on the 6th floor (604) of the Fairfield. The cool thing about this hotel was the parking garage. Each level had an entrance to the hotel. This allowed us to park on Level 6 and enter the hotel on the 6th floor without having to get on an elevator or use the stairs. Other than that, our stay at the Fairfield was just okay. Our room had a microwave and a really cold refrigerator that managed to freeze our bottled water. Still being in the pandemic, there was no housekeeping service unless you requested it. We needed to request new towels and washcloths. I thought our bathroom could have been cleaner when we arrived. I could see hair on the floor and soap scum on the shower glass. We requested housekeeping service twice during our stay but it did not look like they did much to the bathroom other than replace the towels, washcloths, and toiletries.
Breakfast was included with our stay. There was a buffet that included scrambled eggs, sausage or Canadian bacon, cereal, fruit, bread, etc… This was not without its issues. The toaster was not working and the scrambled eggs were a little too salty for my taste. However, I really appreciated the staff who took the pandemic safety protocols seriously. Besides being required to wear a mask in indoor public areas when not eating, there were boxes of plastic gloves that you were supposed to wear before touching anything at the buffet. The staff was watching people like a hawk and would kindly instruct you to put on a glove before getting food.
The hotel is located in a commercial area. There is a shopping center across the street with a Publix grocery store, restaurants, and other businesses. Additionally, a short walk from there were fast food places and convenience stores.
We got somewhat of an early start Saturday morning so that we would have enough time to eat breakfast, drive downtown, and find parking for the 10 AM Footprints of Savannah Walking Tour that I had booked for Traci and me. One thing a visitor to Savannah will notice is all the quaint squares - most shaded by large moss-covered oak trees. We met our guide in the designated square. In addition to the guide, Traci, and me, our group consisted of a mother and her adult daughter from California and Colorado, respectively.
This tour would focus on Savannah's slave history. I knew this was not going to be a typical tourist experience when our guide said that she first wanted to honor the ancestors. To do this, she began to sing. After the song, she began to teach. This was a "walking" tour but there was not very much walking involved. It consisted mainly of us listening to our guide talk about slave owners, wealth generated from slavery, and anecdotes of free blacks who managed to excel in life despite the odds. We were sure to pay attention because our guide would ask questions to make sure we were absorbing what she was saying. She even gave us a hand-out from which we each had to take turns reading paragraphs aloud.
There were not many slavery landmarks that were pointed out. Part of the reason is because Savannah has changed a lot since its slavery days. Many of these places have been converted to parking garages or other establishments. However, there was one building that caught my attention. The bottom floor had small diamond-shaped windows. Our guide explained that it was the floor where the slaves stayed when they traveled with their owners.
We definitely received a lot of information on slavery during this tour including the Weeping Time of 1859 in which 436 slaves were sold during the course of two days. Our tour ended a few blocks away outside the First African Baptist Church. It was constituted in 1777 and is the oldest black church in North America. Our guide gave each of us a small gift bag containing cookies, post cards, and other trinkets. I thought this was a kind gesture.
First African Baptist Church - Constituted in 1777
As an added bonus, our guide asked Traci and me if we would like to meet the artist who created the postcards in our gift bag. All the vendors in the area seemed to know our tour guide. Traci and I said yes to her offer and we were led to a building containing several artist studios. This was where we met Sabree. Her studio was full of her bright paintings. She told us she gets her inspiration from the Gullah culture. Gullah is a community whose ancestors were brought from West Africa to the South Carolina/Georgia region as slaves. What makes the Gullah unique is that for generations, they held on to some of their West African customs which is still evident in their culture and even their dialect. I'll discuss the Gullah later in this trip report when I describe our day trip to Hilton Head Island, South Carolina.
Gullah-Inspired Art of Sabree
After browsing Sabree's studio and buying a few things, we went across the hall to visit the studio of David Laughlin. Not only did he have interesting paintings but he had mobiles and dioramas.
For lunch, we decided to dine at Belford's Seafood and Steaks restaurant. Our guide had introduced us to the restaurant owner during the tour and had included a coupon for a free fried green tomatoes appetizer in our gift bag. I am not a fan of tomatoes but Traci tried the appetizer and loved it. For me, the highlight of the meal was the bread pudding Traci and I shared as dessert.
I had other items on the itinerary I planned for the day such as the Owens-Thomas House and Slave Quarters and the Cathedral of St. John the Baptist but we decided not to do them. We had had enough depressing slavery talk for one day to even think about going to former slave quarters. Furthermore, we were not in the mood for visiting a cathedral. Therefore, we decided to just explore as much of downtown Savannah as we could on foot.
As a side-note, Traci had originally planned to run the Savannah Women's Half Marathon (13.1 miles) during our time in the city but the event was canceled due to the pandemic. Although this was a disappointment, it was not a major blow since Traci had already ticked off Georgia in her quest to run a half marathon in all 50 states.
It was a beautiful, sunny day. The streets and squares of downtown were buzzing with activity. We heard the clip clop of horses pulling carriages of tourists. We walked along Bryan Street, Broughton Street, and other streets in the area where there are plenty of restaurants, bars, and stores. Traci checked out a few shoe stores along the way. We were both amazed as we walked past Leopold'a Ice Cream. The line of customers stretched halfway down the block. Apparently, Leopold's is a 'must' when visiting Savannah. There is also a Leopold's in the airport but we never got around to trying either location.
As we were making our way back to the car, the skies unleashed a torrential downpour. Even though we had umbrellas and we were not far from the car, we still got soaked by the blowing rain and fast-forming puddles.
Through the experience of getting drenched by the sudden rainstorm, we discovered that our hotel room was unusually moist. It took several days for our clothes to dry somewhat. We noticed that even the clothes we hadn't worn yet seemed to have a dampness to them. There was a sign in our hotel room indicating the fan of the air conditioning will run continuously to create a healthy environment. I originally assumed this was done to reduce the spread of COVID-19 but experiencing the dampness of room, I suspect the fan was constantly running to reduce the chances of mold and mildew growing. Fortunately, I did not see or smell evidence of either.
Other than taking a walk in the vicinity of the hotel so that Traci could get her daily 10,000 steps on her pedometer, we did not do much the rest of that Saturday. I picked up some barbeque from Sandfly Barbeque and brought it back to our room. Sandfly Barbeque is one those places where you need to arrive earlier in the day because there is a good chance that they will run out of their most popular menu items (ribs, brisket, smoked sausage) later in the day. Because I arrived 30 minutes before closing, the only meat they had left was the smoked chicken. Traci and I shared the chicken and several sides (collard greens, green beans, mac&cheese, baked beans, and cornbread). The food was delicious!
Traci and I lounged around the hotel room for most of Sunday. This was very unusual for us. When we travel, we are normally on a mission to take in as many new experiences as we can fit into our schedule. There is definitely plenty to do in Savannah. We had discussed doing a hop-on hop-off tour or maybe spending the day exploring Forsyth Park. We could have also done the sightseeing we had skipped the previous day but in the end, we chose to chill. What had gotten into us?
We did eventually make it out of the hotel for a dining experience that would become one of the highlights of our time in Savannah. We drove downtown for dinner at the Olde Pink House. Not only did I see it recommended multiple times during my online research before our trip, but when some of Traci's friends found out we were in Savannah, they also recommended this restaurant.
The Olde Pink House is not a place where you can just show up and expect to be seated right away. In fact, there was a host standing outside the restaurant letting us and everyone else who just showed up that people normally make reservations at least a few weeks in advance. He told us that we could put our names on the waitlist to dine at the bar in the basement. He told us that people usually begin lining up down there about an hour before the restaurant's 5 PM opening time. Wow! It was a little after 7 PM when Traci and I left our name with the host at the bar. We were told our wait would be approximately 1:45 hours. The good thing about this is that you can leave your mobile phone number with the restaurant and someone will contact you when your seats become available. This gave us plenty of time to walk a few blocks to River Street to catch up with our friends Nicole and Cedric who were staying at a hotel in the area.
The Olde Pink House
The restaurant's wait time estimate was almost exact. Traci and I were given seats at the bar. The building has existed here since 1771 and it looked like the cellar at which we dined had been there since the very beginning with its stone walls and wooden floors. It was very dark in there. We had to use the light on Traci's phone to read the menu. Even though we were eating in the cellar, we were told that the menu was the same as that in the upstairs dining area. To keep us entertained, there was a pianist who played a variety of music. He even took requests. At one point, there were a few couples swing dancing and jitter bugging to the music the pianist played.
Our down home meal was 'slap yo momma' good! (Sorry, I'm running out of adjectives to describe the incredible food of Savannah) I had the fried pork chops with collards and sweet potatoes. Traci had the pecan-crusted chicken breast. This meal left us with a dilemma. We were trying to rank the meals we had during the trip. Up until now, Vic's on the River was easily our favorite but now it seems the Olde Pink House had at least tied if not surpassed Vic's for the number one spot. After much debating during our drive back to the hotel, we decided that Vic's held on to the top spot only because of its price.
Monday was the reason for our trip to Savannah - the wedding day of our friends. The ceremony was not scheduled to begin until 4 PM; therefore, we had a good chunk of the day for our leisure before we needed to be on our way. Like the day before, Traci and I did not do much. Traci at least worked out in the nice fitness room of the hotel as she had done every morning. She would then retrieve me to go for a walk to make sure she reached her 10,000 steps goal for the day. Our walk included a stop at the OAK 36 Bar + Kitchen located in the shopping center across the street from our hotel. It was here that I had a delicious plate of chicken & waffles. Traci enjoyed her flatbread pizza as well.
Around 3:30 PM, we made the short drive out to the wedding venue which was called the Mackey House. We had to drive on a gravel road for a bit to get to this beautiful property. The wedding took place outdoors on a gorgeous day - no heat, no humidity, no cold, and no rain - perfect! The grounds were surrounded by palm trees, large oak trees draped in Spanish moss, flowers, and even a fountain. The reception was under a large decorated pavilion on the grounds and the party was on a large covered terrace that contained a dance floor.
Wedding at the Mackey House
From my quick count of the tables at the reception, I estimate there were at least 100 people in attendance - most seemed to be from the DMV (DC, Maryland, and Virginia) area. The bride is one of Traci's running friends or "running boos" as the bride likes to refer to the group of women with whom she runs. There were several running boos who made the trip to Savannah.
Despite there not being many, if any, guests that actually lived in the Savannah area, there was one VIP - the Mayor of Savannah! He officiated the wedding. During the reception, he told the amusing story of how he ended up presiding over the ceremony. It went something like this… During the early days of the Coronavirus Pandemic, Savannah, like many cities around the world was shut down. With not much to do, the mayor started an online event called "Friday Night Party" (or something like that) at which participants could log on and chat about the city. The bride has never lived in Savannah but had enjoyed visiting the city for several years. Therefore, she decided to join the weekly Friday night parties. Apparently, she was a very active participant because with more than 10,000 people logging on each week, she managed to catch the attention of the mayor. He finally asked, 'Who are you?' He wanted to know why she had so many comments about the city but yet does not even live there. When the bride explained she was planning to get married in Savannah, the mayor did not believe her. He then offered the challenge of 'If you are seriously getting married here, I will personally officiate the wedding.' Suddenly the topic of the wedding took over the weekly chats since it seemed everyone wanted to offer suggestions on planning the wedding so that the mayor would have to follow through with his challenge. It worked. The mayor said that the next thing he knew, his assistant had added the wedding to his schedule. The mayor kept his word and met the couple in-person about 15 minutes before he performed the ceremony. What an incredible wedding story! We had a great time at the festivities. We stayed until the very end. Continue...
1 | 2 | 3
---
[Back to the Main Page]