Little Rock, ArkansasMarch 1, 2019 - March 3, 2019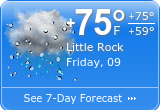 We stayed on-the-go during this runcation weekend trip to Arkansas. This was State #18 in Traci's quest to run a half marathon in all 50 states. In between Traci's running events, we managed to spend some time in the resort town of Hot Springs as well as check out some significant landmarks in Little Rock.
Things I Really Enjoyed
Fordyce Bathhouse: This bathhouse is located on Bathhouse Row in Hot Springs, Arkansas. We toured the three floors of this building learning about the elaborate bathing ritual visitors to this recreational establishment went through in the late 1800's and early 1900's.
Arkansas Old State House: Our visit to this attraction started as a way to kill time before our flight home but turned out to be an unexpected gem of an attraction. This former state capitol building is now an interesting museum housing everything from dinosaur bones to Arkansas First Lady dresses. Despite the variety of artifacts, the museum does not require hours to visit.
Things I Would Do Differently
Spend More Time in Hot Springs: We only spent a few hours there due to the schedule of the marathon events. There seems to be enough to see and do in Hot Springs to warrant a day-long visit or longer.
Trip Report
It was a hectic start to this weekend trip to Little Rock, Arkansas. In order to save money and to maximize our time in Arkansas, we had booked the 5:45 AM flight out of Washington Reagan National Airport (DCA) instead of our more convenient Washington Dulles Airport. Therefore, instead of our usual 10 minute drive to Dulles, we had to allot at least 45 minutes to get to DCA - especially on a rain/sleet-mixed morning such as the one we had. We ended up leaving our house a little after 3 AM to get to the airport. We parked in the economy lot ($17/day - Ouch!) and then waited at least 15 minutes with other passengers huddled under the bus shelter for an airport shuttle to arrive. I feared we would miss our flight given our boarding time was 5:25 AM and we were stuck in a very long security line that extended down the corridor at 5 AM. It turns out security did not even start screening passengers until around 5:10 AM. However, it seems DCA is used to this morning rush. The line moved quickly when the gates finally opened. Everyone was on the plane in time for our 5:45 AM departure; however, we were delayed while our plane was being de-iced.
There was not a direct flight from D.C. to Little Rock; therefore, we changed planes at Chicago O'Hare. The flight crew was aware that many passengers like Traci and me had a tight connection to make in Chicago. They told us they would try to make up the de-icing delay while we were in the air. Additionally, they asked passengers who did not have a tight connection to allow those of us who do to deplane first but it seemed everyone was in the same situation as us.
Our flights were United Airline's "basic economy" class. I did not know they had a class that low. Traci and I were not seated together during the Chicago to Little Rock leg which was a little over an hour. I had a window seat as I prefer; however, I was seated in the last row of the plane across from the restroom door. I ended up having a nice chat with the lady seated beside me. She is a university professor from New York who was headed to Little Rock to run the half marathon as well. Like Traci, she was working on running a half marathon in all 50 states.
Although Traci and I traveled "basic economy" class, our travel was rather presidential in terms of airports. Our trip began with our departure from Reagan National Airport. We landed at Bill and Hillary Clinton National Airport in Little Rock. There were photos and plaques in various areas throughout the airport honoring the Clintons. As we would soon find out, many places in Arkansas carry the Clinton name.
arriving in Little Rock, Arkansas
This was my first visit to Arkansas. Traci came to Little Rock many years ago on a business trip; however, she did not get a chance to sightsee back then. For this trip, Traci left me in charge of our sightseeing itinerary. From my research, I knew that Hot Springs is a popular destination in Arkansas. It is located about an hour from Little Rock. Therefore, we rented a car for the day so that we could drive there from the airport.
Our first stop was at a visitor center in downtown Hot Springs where a friendly lady told us about the area and handed us a map. Hot Springs gets its name from the natural hot springs in the area. Rain water seeps into the ground over thousands of years and eventually rises to the surface as steaming hot water (approximately 143° Fahrenheit). The American Indians had been bathing in the springs for thousands of years before the Europeans arrived. The Europeans began coming to the area in the 1800's to relax in the heated waters and because they believed the waters could heal ailments. Bathhouses were built and a resort town was constructed around the area. The U.S. government reserved part of the area in 1832 to prevent people from claiming the hot springs. Hot Springs National Park was established in 1921. It is the smallest national park in the U.S..
Hot Springs is an interesting place. First of all, when I think of a national park, wilderness normally comes to mind. Hot Springs National Park is different in that it is located downtown. At various points around the city, there are fountains where we saw people filling up jugs with the natural hot spring water. The water is drinkable. We never got around to trying it. The park contains several bathhouses on Bathhouse Row. We did not check out the park right away. Instead, we strolled down Central Avenue, the main tourist drag where Hot Springs National Park is located. Here we saw touristy shops, candy stores, bake shops, quirky museums, etc... It was not a busy day so we had a chance to chat with some of the friendly shopkeepers. They were expecting Hot Springs to be crowded with spring breakers the week after our visit. The town was also preparing for their annual World's Shortest St. Patrick's Day Parade - a parade route of just 98 feet. The parade attracts thousands of visitors who are treated to concerts and celebrity appearances.
We had a look at the Walk of Fame where there are plaques in the sidewalk dedicated to famous Arkansas residents. Of course, the first plaque we saw was that of President Bill Clinton who was born and raised in Hot Springs, Arkansas. We had a quick look inside the Ohio Club, Arkansas' oldest continuously operated bar. It was opened in 1905 and had many famous visitors such as Babe Ruth, Al Capone, and Mae West to name a few. The staff still dress in clothing from that era. There are a few historic hotels along Central Avenue. Their exteriors look like they could benefit from a coat of paint.
Along Central Ave. in Hot Springs
Traci and I had a nice lunch with friendly service at the Brickhouse Grill and then made our way to Bathhouse Row in the park. There are eight historic bathhouses along the Grand Promenade. Traci and I spent most of our time in Fordyce Bathhouse where we watched a film on the history of Hot Springs. It was an excellent film but it seems our 3 AM departure for the airport that morning was starting to catch up with us. At one point during the film, I heard a sliding sound. I looked over and saw Traci in a deep sleep slumping little by little to the side of her chair. I caught her before she fell out of her seat. She woke up abruptly and we both giggled at the situation. We checked out the three floors of Fordyce where there was information on the elaborate bathing ritual visitors went through during the late 1800's and early 1900's. This consisted of being guided from room to room as the client would sweat out toxins, get scrubbed, and cooled. It was actually more interesting than I had anticipated. Although, Fordyce is no longer an operating bathhouse, some of the other buildings on Bathhouse Row are. We did not have time to partake. There are many other attractions and things to do in Hot Springs such as an amusement park, hiking trails, and water activities but we needed to make our way back to Little Rock so that Traci could pick up her race packet. However, before leaving Hot Springs, Traci and I stopped by the former Superior Bathhouse which is now a brewery. We were interested in their pretzel bread pudding and their Superior Root Beer made with natural hot spring water. Both items were very good.
Hot Springs National Park
We made the hour drive to the Convention Center in downtown Little Rock where the runners' expo took place. It was one of the more interesting expos we've attended. It had an alien theme with decorations and people dressed in alien costumes. There was also a goat pen with live goats but I am not sure how or if it fit the theme. Nevertheless, Traci was able to pick up her race packet before closing as well as catch up with some of her running friends from around the country. Continue...
1 | 2
---
[Back to the Main Page]